Projects
March 2013 – Kate Griendling's Oswald project scores a commission with the Military Channel
Congratulations to Kate Griendling on landing a commission with the Military Channel for her special about the Kennedy/Oswald assassinations.  Kate consulted with Carrie when she was looking for help shaping her story and making it more attractive to networks.
Kate shares, "I had almost given up on my documentary– a two-year work in progress– when I met Carrie Regan. Carrie believed in my story and offered tangible help—not just advice. She transformed my treatment by giving the characters color and the plot direction. Her writing is dynamic. She brings to life the stakes, the twists, and the emotion of the story. Carrie took time to coach me through the process and connected me with her contacts. For the first time, I was going into meetings armed with a clear idea of what I had to offer networks.
I could not have done this without Carrie's help. Carrie's experience in development, casting, and production give her a well-rounded, expert perspective on what networks look for in a show. She can take the program from concept to air. Her advice and attitude are invaluable. I'm not sure I can fully express the magnitude of Carrie's impact, other than to point out that two months after Carrie championed my cause, Discovery Studios decided to pitch the documentary to the Military Channel and soon followed the commission."
Congratulations again Kate! It was a pleasure working with you, and I'm honored that you decided to shared such a personally meaningful project with me.
January 2013 – Carrie serves as mentor for Outside Adventure Film School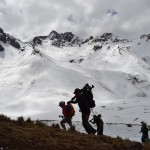 After a fantastic experience serving as a mentor/instructor with the Outside Adventure Film School in Peru in 2011, Carrie returned for the Colorado Backcountry session in January 2013.Carrie joined award-winning filmmaker Michael Brown and pro skier Chris Davenport to guide six students. Their mission: over the course of four days in the backcountry and a marathon 40-hour edit session, produce, shoot, and edit a 3-5 minute film in time for the graduation ceremony–a public film festival!
Outside TV
 was there to cover it all for an upcoming six-part reality series currently scheduled to air in April. Stay tuned for more details–and check out the preliminary press
here
.
Find out more about the Adventure Film School–and upcoming sessions–here. Rumor has it an underwater filmmaking school in the Caribbean may be coming soon!
December 2012 – Carrie and her thriller Rumors of Savages featured in Writers Speak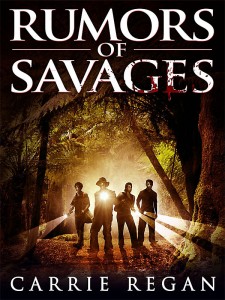 Carrie and her thriller Rumors of Savages were featured in Jeff Shear's blog Writers Speak, a site about the craft of writing, including interviews with indie writers.
The novel interweaves the exploits of a television crew hunting for a lost anthropologist in the middle of an African jungle and the machinations of the network honcho who spins their suffering into the media sensation of the moment in the hopes of saving his ailing cable channel.